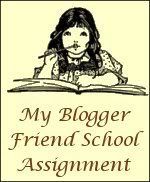 *SIGH* Ever have one of "those days"? I wish the Blogger Friend School Assignment wasn't today, because I want to be upbeat and positive about our homeschool, and today is one of those days when I just want to crawl into bed and not get back up. I have managed to get all of the "basics" done, except for Lefty's English — I'll get to it later…but I haven't gotten any Konos or Tapestry done today. :(
I'm in a fog. I'm not getting much sleep these days. In fact, I wake up feeling like I haven't slept at all. Then to make matters worse, today my ten-year-old daughter decided to wake up at 4am. She couldn't get back to sleep, so she started talking to *me*. I am not a morning person when it is TIME for me to be up, let alone hours before that time, and after having gotten only a couple of hours of sleep to begin with. So today I have been sleepy, and angry, and irritable, and exhausted, and feeling overwhelmed.
….and it's when I feel like this that the children purposely push my buttons — arguing, bickering, picking at each other, not doing chores, losing their English book and not even pretending to be concerned enough to even go look for it.
I tried to nap – I begged them for just a half hour. That didn't work. Even with a pillow over my head, the escalating noise in the next room wouldn't allow it. So I am up…and stewing…and blogging in an attempt to keep from bawling.
So…the blogger friend school assignment for today…
Assignment: Take time this week to write about YOU and your feelings of trials and triumphs with homeschooling.  Touch on when you first heard about the concept of home schooling and whether you tip-toed into the idea or just jumped in and never looked back.  Share your schooling as a child and how you compare it to what your goals are for your children.
How about I just write about the *trials* right now (like today), because I don't feel very triumphic. As a long-time homeschooler (what has it been now? 11 years?), I am the cheerleader…always trying to encourage everyone else in their homeschooling endeavors — but today…and possibly for the rest of this very exhausting pregnancy, I think *I* need some encouragement. Sorry to be a downer.
But…in all things I will praise God. My praise for today is that I live in a free country that even gives me the option of homeschooling. Whether or not we get much done in a given day, it (my children being here at home, together) is better than the alternative.
Now…off to find some toothpicks to hold my eyelids open.
Isaiah 40:29-31

He giveth power to the faint; and to them that have no might he increaseth strength.
Even the youths shall faint and be weary, and the young men shall utterly fall:
But they that wait upon the LORD shall renew their strength; they shall mount up with wings as eagles;
they shall run, and not be weary; and they shall walk, and not faint.
Why I Do What I Do: