We have been sooooooo busy!
I have spent my computer time re-vamping chore charts and schedules…and my offline time exploring nature with the family.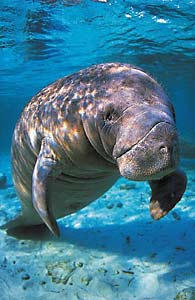 Because of the strange hours that Rob worked last week, we were able to go on some fun field trips! I already mentioned the field trip to the wild bird sanctuary, but on Friday we went on another field trip — to see manatees in the wild! We are studying manatees in school right now, so this was quite exciting!
The manatees hang out, in the winter time, near the local power plant. They are attracted by the warm water that is released into the bay after the cooling process. Because the manatee viewing area is at the plant, the children (and I) had the chance to learn all about how the electricity is produced from the coal as well.
We also went on a nature walk in a marshy area full of mangrove trees and fiddler crabs. We learned the difference between three types of mangroves, and at first thought the tiny crabs were bugs scurrying around!
On one of our neighborhood excursions last week, we discovered a bird we'd never seen before, a yellow-crowned night heron. Beautiful! I think that one of my very favorite things about Florida..the exciting varying species of birds — all KINDS of interesting birds.
The children have enjoyed playing with lizards ever since moving to Florida, but today they discovered something new…lots of tiny frogs — all in our backyard, and last Saturday, while at the neighborhood beach, they enjoyed watching hundreds of tiny burrowing clams.
You know, it has been ages since we have done "traditional" school, but we have had so much fun discovering and enjoying God's creation over the last several months. This will likely be their most memorable year.